Sarri considers dropping Kepa & Alonso
Chelsea get little to no time to lick their wounds, emotional or physical, from the loss in the Carabao Cup final against Manchester City. Less than 72 hours later, another big game is upon us in the Premier League as big rivals Tottenham Hotspur come to the Bridge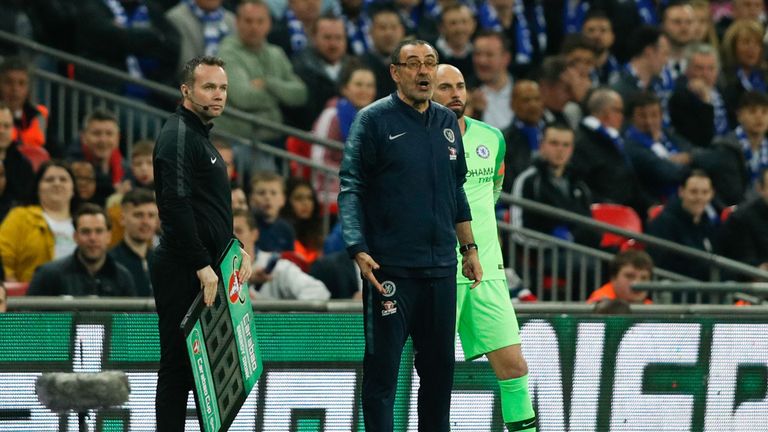 Sarri considers dropping Kepa & Arrizabalaga
Emotions were only heightened thanks to the incident between Kepa Arrizabalaga and Maurizio Sarri towards the end of Sunday's game. Roundly termed a "MUTINY" by the media, the world's most expensive goalkeeper appeared to defy his head coach and refused to come off the pitch to replaced by former Manchester City goalkeeper Willy Caballero. Cooler heads have since prevailed, and all involved have framed the entire event as a big misunderstanding, which it certainly was in part, but it was also handled about as poorly as it was possible at the time.
Kepa has since been fined one week's wages, and the matter is considered closed, but further repercussions may yet come in the form of one or two games on the bench. That's got nothing to do with quality or performance. In the immortal words of Heath Ledger's Joker from The Dark Knight, "it's about sending a message".
"Sunday we did a wonderful match. It is difficult to not concede anything in the defensive phase. I am the coach so I have to focus on the performance. I spoke to Kepa, I spoke to everyone. He said sorry to the technical staff, but it was not enough. He said sorry to the players and the club. We don't want to kill him.
"I don't know, I have to decide yes or no. I think so (he is fit), he only had a recovery yesterday but I think so. It will be the decision of the group, of all the players. I need to send a message to my group, whether Kepa is on the pitch or off it. I have to decide what is better for my group.
Follow @CFCCliq - Chelsea FC Cliq
"He has to be [ready]. He made a mistake, there are some consequences. If it is to play he has to be ready, if it is on the bench then he has to be ready."
"It was really a very unusual situation so the players were very shocked. It was impossible to react immediately. I didn't want a goalkeeper with cramp for the penalties. Caballero knows very well the other players at Manchester. I thought it was better with a goalkeeper with very good condition to go to the penalties. I don't think anything because penalties are a lottery.
"It was a big understanding, I have to value the performance. They played with a great level of application."
As poorly as the situation was handled, it's been handled about as well as possibly since. Sarri may be on thin ice, but he looks in control of the situation and is reasserting his authority in the dressing room (with the club's backing). So, no "palpable discord" with Sarri or "dressing room war" about Kepa incident.
"Did you see the match on Sunday? So you know the answer. I think [the player still respect me], yes."
One decision that has been welcomed almost universally has been the preference for Emerson over Marcos Alonso recently, which will continue for now (fitness permitting).
"I didn't want another left-back on the bench. At the moment Emerson is doing very well so I have to use him. It depends on the condition. It is not a big problem to not have a great time at the top."
Follow @CFCCliq - Chelsea FC Cliq
While the Kepa incident has overshadowed most everything, it's not the biggest actual issue at Chelsea. The Blues are now out of the FA Cup, failed to win the League Cup, and while are still going strong in the Europa League, are outside of the top four and looking in.
Chelsea the started the season well enough, certainly in terms of results, but the form has collapsed, the mentality weakened, and the belief ebbed away. Sunday's defeat could serve as a turning point, but it's hard to bet on that after all the other potential turning points have been passed up over the past few months.
"At the beginning we had more enthusiasm I think, to remedy mistakes. Then we played without enthusiasm for a period, maybe we were only tired. Of course in the defensive movement we are better now. If we don't stop to defend, against City we stopped to defend (6-0 loss). Now we are improving in the defensive phase and in the last two matches. I think we are able to have a great solidity in the defensive phase."
-Maurizio Sarri; Source:
Football.London
It remains to be seen whether Sarri's sudden pragmatism was a one-off for the final or if it becomes a standard part of our tactical repertoire. Either way, another embarrassment against Spurs like the 2-0 reverse in the first league meeting must be avoided — though in reality, Sarri needs a win for his and his team's sake.
WATCH: 5 players that Chelsea must sell this summer!
Follow @CFCCliq - Chelsea FC Cliq